17-12-06
truckrace 2007!
Yesterday a mere Rumour – Today Official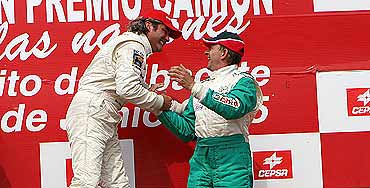 16. Dec. 2006 - Last year opponents – next year a team, Gerd Körber and Egon Allgäuer. Actually, it was really a bit more than a rumour only that Gerd Körber would sit behind the wheel of an Egon Allgäuer MAN before long, but we were asked to comment on it only in the subjunctive so far. But now it's official. But there is even more: Egon Allgäuer is going to enter in active truck racing again.
Whenever he was asked in the past if he wasn't itching to return when standing in the pit lane, watching the race trucks speed by, he always declared how much he enjoyed being "only the team boss", and that anything else would be much too stressful. In some races next season there will possibly even be four Allgäuer trucks. Markus Altenstrasser left the team, but Jo Adua will continue to participate on an Allgäuer MAN in the FIA European Truck Racing Championship. And, as reported before, in some of the races Hans-Joachim Stuck should be at the start as guest driver. That's why the team from Vorarlberg is going to construct two completely new RaceTrucks. After signing a contract with MAN with a term of three years there is enough support for Egon Alläuer to start such a large-scale project.
Eerste truckrace nieuws voor het seizoen 2007 komt uit het team-Allgauer kamp.Gerd Koerber(vice kampioen 2006) maakt de overstap van het buggyra team naar dat van Allgauer,Egon Allgauer zelf kruipt na een tussenstop als ploegleider,weer zelf achter het stuur van een racetruck.Markus Altenstrasser verlaat wel het team,maar fransman Jo Adua blijft.In enkele races zal ook ex F1piloot Stuck rijden,zodat er op sommige momenten 4 Allgauer trucks in de race zullen te zien zijn.
Heinz Werner Lenz zou ook stoppen en de fakkel doorgeven aan zoon Sacha.
Alain Buffa zou stoppen....